The holistic solution for individual hotels
CREATE A COMPETITIVE ADVANTAGE
With our UNISONO 360° management model, hoteliers benefit from the advantages of a hotel group without losing their independence and individuality. Our experts take over all support functions that are not required directly on site at the hotel. This allows you to sustainably reduce your fixed costs, free up time for guests and employees, and increase revenues.
INDIVIDUAL SOLUTIONS FOR INDIVIDUAL HOTELS
You decide in which areas you need support. Thanks to our hotel backoffice in Lörrach, we cover all areas of modern hotel management and can respond to your individual needs.
---
You would like to relieve your hotel team and create more time for your guests? Our hotel experts take over your backoffice functions as if they were part of your team. Decide whether you want to outsource all functions or only parts of them to UNISONO Hospitality. We look after your guests before and after their stay in the following areas
---
Are you looking for a professional management partner for your hotel? UNISONO Hospitality specialises in the management of individual hotels. Thanks to our support office, you benefit from all the advantages of a modern hotel group and have a management team with many years of experience at your side. As a white label company, we operate unique individual hotels in the DACH region and achieve above-average results thanks to efficient processes, consistent outsourcing of support functions and individual positioning.
---
Are you looking for a tenant for your hotel property? Passionate hosts on site, an efficient management support model and digitalised processes make UNISONO the ideal operator for your hotel property. We are always on the lookout for unique hotels & resorts in holiday destinations, gladly also B or C locations.
---
In case of short-term vacancies as well as insolvencies of hotel operators, UNISONO temporarily takes over the management.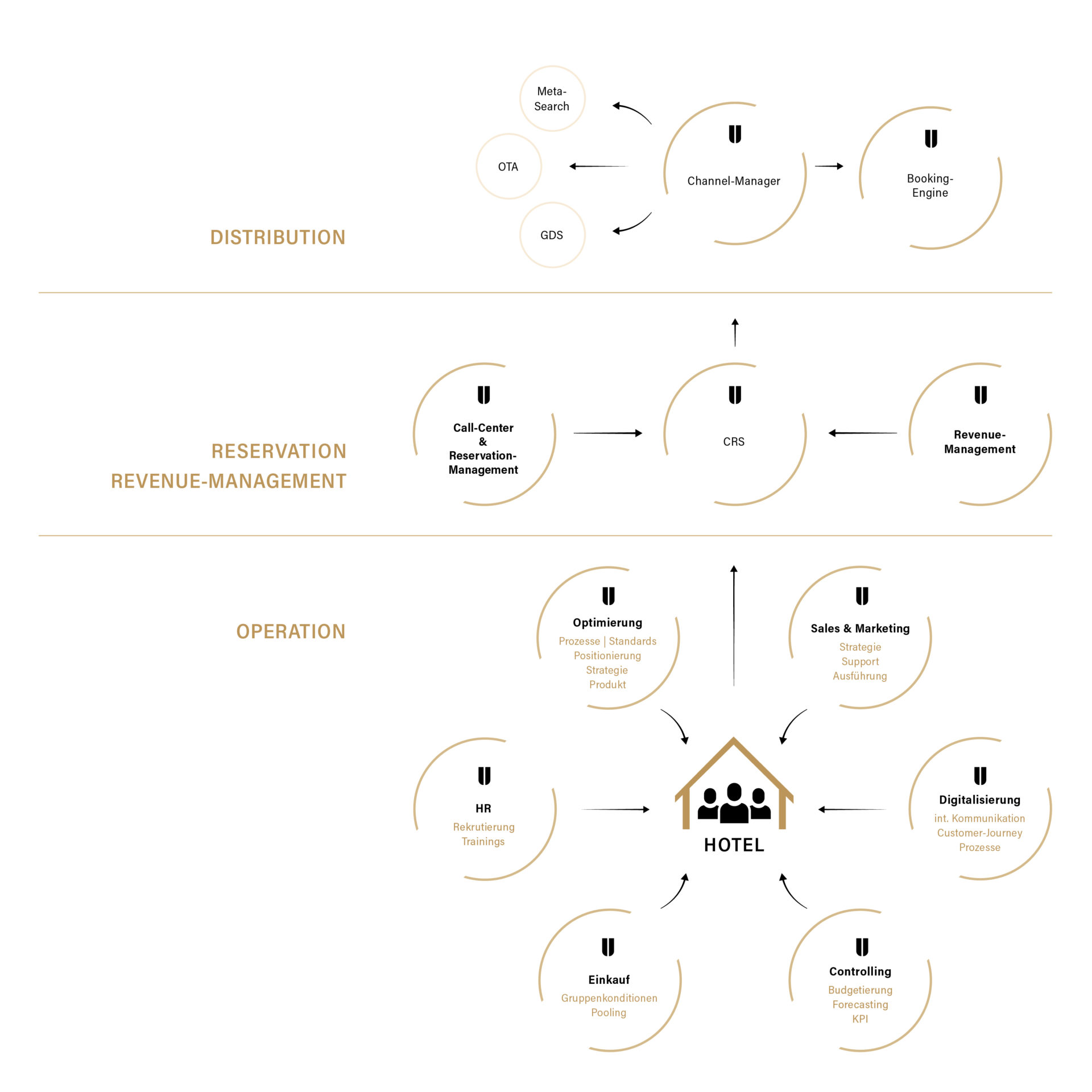 what our customers say
"The cooperation with UNISONO Hospitality as a reservation centre in five of our hotels brings us administrative relief so that we can focus more on our guests. Through their competent advice and professional and friendly demeanour, our guests are very well advised and looked after all round. We look forward to continuing to grow with UNISONO in the future."
Wiebke Kuhlmei, COO Candrian Hotels
---
"We work with UNISONO Hospitality in the areas of reservation management, distribution and digital marketing, which works smoothly and brings a striking relief for the hotel team. Thanks to the professional back office team, which knows our hotel very well and was personally on site, our guests are advised very competently. This is also reflected in the high satisfaction rate during the reservation process. All enquiries are answered on behalf of our hotel, which sets UNISONO apart from other hotel service providers." Johannes Sommer, Operations Manager Hotel Bären, Gonten
---
"Since UNISONO Hospitality took over the management of Schloss Purschenstein, we as owners have enjoyed the hotel again. The revenues could be increased and the costs optimised. Staff turnover has also decreased significantly, as the team can focus fully on the guests. We are very happy to have such a professional management partner at our side and can highly recommend UNISONO Hospitality" Bas Praagman, Owner of Purschenstein Castle